OCDE Project GLAD® Tier I Training:
Foundations training
OCDE Project GLAD® training is a 6 or 7-day training that consists of a two-day workshop and a 4 or 5-day classroom demonstration.
The first part of GLAD® training is the workshop that provides an overview of theory and research supporting the OCDE Project GLAD® model. Covering the work of educators across disciplines, teachers are trained in language acquisition, brain research, cross cultural respect, primary language support, and reading and writing principles. The Two-Day also presents an overview of practical classroom applications, how to present strategies based on Sheltered Instruction or ELD objectives, and the organization and planning of GLAD® units based on CCSS, NGSS, 21st Century Skills, and state standards. The Two-Day Workshop must be presented on two consecutive days.
Part 2: Classroom Demonstration
After the workshop, teachers see GLAD® in action! The trainers model for teachers everything that was taught at workshop. During this week-long demonstration in a district classroom, one consultant teaches students using OCDE Project GLAD® strategies while the other trainer coaches the observing teachers in the back of the classroom during the mornings. Afternoons are spent debriefing, collaborating, and planning so teachers may implement their learning immediately upon returning to their classroom. The classroom demonstration week can be scheduled for a 4 or 5 day week, but requires 14 hours of contact time with students. Your consultant will work with you on scheduling the appropriate length for your demo week.
OCDE Project GLAD® training is designed for teachers, administrators, paraprofessionals, and district personnel interested in learning how to integrate content with language development. Participants must attend every day to receive their Project GLAD® certification. The Two-Day Workshop is a prerequisite for attending the Classroom Demonstration week.
The training requires a minimum of 20 participants and a maximum of 24 per demo. Districts have the option of combining two groups into one Two-Day Workshop (40-48) participants with two separate demonstration weeks of 20-24 participants each.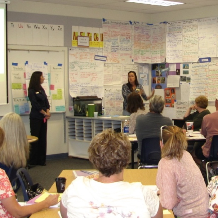 All OCDE Project GLAD® consultants contract under the amount set by the OCDE Project GLAD® National Training Center of $1025 per participant, plus $45 materials fee. This fee includes both the Two-Day Workshop and the 5-Day Demonstration. It also provides password access for all participants to hundreds of OCDE Project GLAD® units available for use on the NTCProject GLAD® website.
In addition, districts are responsible for reimbursing consultants' travel expenses, and to provide copying of materials for participants, as needed. Participant learning guides are ordered from the Project GLAD® National Training Center.
As OCDE Project GLAD® continues to grow, the organization has moved into a season of greater accountability for consultant trainers. Only active Tier IV level consultants and NTC staff are certified to train nationally or internationally. If you have any questions about the level of certification of your trainers or their active status, contact the National Training Center www.ocde.us/projectglad
The rigorous standards set by CCSS, NGSS, and 21st century skills can only be met with the Project GLAD® model that uses the identifiers OCDE Project GLAD® or NTC Project GLAD®.
At ESL Consulting Services, we make a commitment to partner with the most experienced and engaging Tier IV consultants. Our partners come from states all along the west coast, so depending on your location and training needs we will work with you for the best fit.
There is a high demand for quality OCDE Project GLAD® training and our calendars are booked well in advance. For more information or to schedule a training, please contact Jody Bader at ESL Consulting Services.
Phone: 425-238-4617
email: jody@eslconsultingservices.com